BROSETA strengthens its Competition Law Department with the recruitment of José Manuel Sipos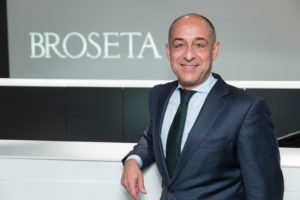 Within the framework of the 2020 Strategic Plan that BROSETA is carrying out and that contemplates, among other aspects, the recruitment of teams and lawyers of recognised excellence with the aim of consolidating the organisation among the legal firms of reference in Spain, the Firm has recruited José Manuel Sipos to lead the Competition Law department.
José Manuel holds a Law Degree from the Universidad Complutense, a Diploma in Economics from the UNED and PDD from IESE Business School, and has a notable recognition and extensive experience in Competition Law, having been prior to BROSETA a Director responsible for this Practice at PwC Tax & Legal Spain, where he also headed the Global Legal Network of Competition, and previously was in charge of the Competition Law Unit at Telefónica for more than 10 years, where he led the advice on Competition during the liberalisation process of the sector in Spain and the international expansion of the Telefónica Group.
With extensive experience in advising national and multinational companies on strategic issues related to competition regulations, before Spanish, European and Latin American authorities in all sectors of activity, José Manuel Sipos is also recognised in his field of activity in prestigious international directories such as Best Lawyers and Chambers & Partners.
José Manuel also joined the the Pablo López Firm from PwC Tax & Legal.
Competition Law Department of BROSETA
For Luis Berenguer, former President of the National Competition Commission and Senior Advisor of the Firm's Competition Department, "the recruitment of José Manuel consolidates and increases the relevance of the BROSETA brand in the field of Competition Law. With his arrival we complete a team with great experience that helps us face with guarantees a future that has huge prospects for growth in this area ".
The BROSETA Competition Law team, led by José Manuel Sipos and Luis Berenguer, is made up of a group of top-level professionals that enjoys great national and international recognition and has experience in areas of competition such as anti-competitive agreements, abuse of dominant position, concentrations, State aid and claims for damages.
For Rosa Vidal, managing partner of BROSETA, "with the recruitment of a profile with the experience and recognition of José Manuel, we continue to promote our growth strategy and the commitment of maximum quality in the service and high added value we have with our clients, in an increasingly demanding market ". For his part, José Manuel Sipos considers it "an exciting challenge to arrive at a firm immersed in an ambitious growth process, and that has a team with exceptional talent and highly valuable capabilities."
With this addition, BROSETA already has 28 partners who lead a team of more than 120 lawyers serving in the main areas of Business Law.