BROSETA, nominated for best European firm of the year Energy, Infrastructure and Major Projects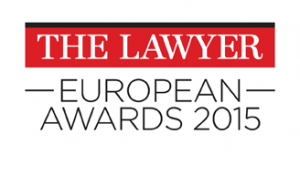 The public law team of BROSETA, led by partner Rosa Vidal, was selected by the publication The Lawyer as one of the six finalist firms that decides the best team of lawyers of the year in Europe in the category of Energy, Infrastructures and Major projects.
These awards recognize the professional teams at European level that have demonstrated a high standard in the execution of projects in different disciplines or areas of activity. In this sense, the team of professionals that make up the team that Rosa Vidal directs has been the protagonist in some of the most outstanding operations in the field of public law in the last year. Deep specialization of the team in the field of public-private partnership has helped the firm become an advisor of reference to public administrations, bodies and public companies and some of the most relevant business groups in terms of public works, highlighting, among other things, the expert advice in railway, port and airport infrastructures.
The jury for these prizes, given annually by The Lawyer, after the evaluation of bids from firms from 28 countries of the European Union, as well as other international law firms operating on the Mainland, has valued the work of BROSETA as excellent and innovative in the management and implementation of projects, and excellence in customer service and satisfaction of expectations.
The Lawyer Awards (an international publication specialized in the legal sector, with more than three decades of experience and a deep global knowledge of all areas of business from the scope of the legal profession), recognize, in its European Edition, the best practices of the firms operating on the Mainland in five categories: Banking and Finance; Competition; Energy, Infrastructure and Major Projects; Transactions, and Business Expertise. On this occasion, BROSETA is one of the only two Spanish firms nominated in different categories.
The firm BROSETA won last year the 2014 European team of the year in banking and finance awarded by The Lawyer, and in 2011 was a finalist in these awards in the category of  "niche" firm of the year in Europe, for its work specialized in the area of Venture Capital. The final result will be known on March the 12th in London at The Lawyer European awards gala.