BROSETA, law firm of the year in Spain in Real Estate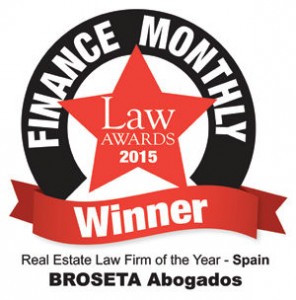 The Real Estate team of BROSETA, led by the Partner and Head of the Commercial Law Department of the firm, Isidro del Moral, has been recognized by the specialized publication Finance Monthly as law firm of the year in Spain in its scope.
The Law Awards of Finance Monthly, now in their sixth edition, recognize practitioners and firms in the legal sector from around the world who have demonstrated outstanding professional performance during the past year.
Some of the evaluation criteria followed in identifying the most prominent firms by the publication are the volume of activity and the dimension of the assessed cases, experience, capacity for innovation, strategic thinking in advising or recognition in international directories and by other professionals.
The Real Estate law team of BROSETA team has participated in some of the most important operations of the sector in the past year, such as advice to the Pontegadea group in the acquisition of the Madrid Gran Via 32 building, or advice to MAZABI, one of the main managers of assets in Spain, in the process of acquisition of significant real estate assets in Madrid.
You can consult the publication with all the professionals and companies recognized in the following link.