BROSETA, among the most outstanding Law Firms of 2018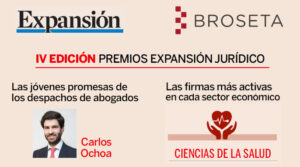 BROSETA has been recognised as one of the most outstanding firms among the finalists of the fourth edition of the Expansion Awards for Excellence in Business Law, awards that recognise the performance of legal services firms and their professionals during 2018 in different categories.
Thus, the Firm has been selected finalist in the categories of Health Sciences and best young lawyer, with partner Carlos Ochoa.
In the first case, since the organisation of the awards, a BROSETA value proposal has been recognised that includes all areas of the Firm and more than one hundred qualified pieces of work carried out in the Health, Biotechnology and Pharmaceutical industry during 2018.
In the category of best young lawyer, the recognition to Carlos Ochoa puts value in his performance in matters of M&A, Startups and Capital Markets, together with his responsibilities in the field of management and social commitment.
This year, the Expansion Legal Awards have saw the participation of more than 70 firms operating in the domestic market. The awards ceremony will be held on 27 June.