BROSETA consolida su posicionamiento destacado en el directorio The Legal 500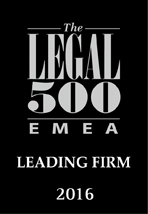 El directorio internacional The Legal 500 ha destacado a BROSETA y sus abogados en su edición de 2016 como líderes en sus diferentes áreas de trabajo.
La Firma ha sido resaltada en las principales áreas de Referencia de Legal 500: Bancario y Financiero, Competencia y Derecho de la UE, Fiscal, Fusiones y Adquisiciones, Inmobiliario, Medio Ambiente, Mercados de Capitales, Mercantil, Planificación de Proyectos y Energía, Procesal y Concursal, y Público (http://www.legal500.com/firms/22195/18267).
Banking and finance, tier 3
Broseta Abogados' 'high-quality services and knowledge are comparable to any of the big firms in Spain'; 'its solid team goes beyond expectations'. It has recently been active advising lenders on refinancing and restructuring matters, including assisting Bankia (as the lead arranger of a bank syndicate) on a complex €146m restructuring of Kerabén Group's liabilities. The practice is headed by Antonio Navarro.
Capital markets, tier 4
Broseta Abogados acts for institutions such as Banco de Valencia and Orion Mine Finance on capital markets transactions. Antonio Navarro is the key name.
Corporate and M&A, tier 4
Broseta Abogados is vastly experienced in private equity and venture capital mandates. Clients include Sareb, Cerberus and Santander Consumer Finance. Julio Veloso and Alejandro Ríos are recommended.
Dispute resolution, tier 5
Broseta Abogados mainly assist clients in the construction, financial and insurance sectors; examples include Sacyr Vallehermoso, Bankia and Aviva. Patricia Gualde is recommended.
EU and competition, tier 4
Broseta Abogados boosted its team with the hire of senior adviser Luis Berenguer (a former president of the Spanish Competition Authority) and Sergio Baches. The team has been active in some of the market's most prominent cartel investigations.
Environment, tier 3
Broseta Abogados' team assisted Red Kite Capital Management in the due diligence process relating to the planning, environmental and mining permits for the Rio Tinto mining project. Rosa Vidal is the key contact.
Projects and energy, tier 4
Broseta Abogados has been active in the promotion of the development of the renewable energy market in Spain. Rosa Vidal is representing BP Oil España in an action against the government over the new regulatory regime governing renewable energies.
Public Law, tier 4
Rosa Vidal heads the practice at Broseta Abogados, which advises public institutions and private corporations on matters of public law. Several members of the team have experience working in the public sector.
Real estate and construction, tier 4
The 'incredibly professional and practical' real estate team at Broseta Abogados advised SAREB on the sale to Amenabar Promociones Residenciales of a portfolio of assets linked to the Arroyo del Fresno area of Madrid.
Tax, tier 5
Broseta Abogados specialises in wealth management and private banking, tax litigation and international tax planning. Javier Morera, Luis Trigo and Carlos Diéguez are recommended.